Destinations


48 Hours In: Amsterdam
The Dutch capital is back in full swing this summer, thanks to the reopening of its top museums. Simon Calder joins the celebration...

The Independent



Five exotic places you can go without a U.S. passport
Longing for a long-distance getaway but don't have a passport? No problem! We've found five faraway places overseas where, according to U.S. Customs and Border Protection, you won't need to bring a passport...

USA Today



36 Hours in Vancouver, British Columbia
In this stunning city, even commutes can be attractive. But Vancouver's appeal doesn't end with the outdoors...

New York Times







Tours and Activities


Europe's Secret Beaches
You've donned oversize sunglasses and slathered on sunscreen for a blissed-out day of sunbathing along the French Riviera -- you and about a million other pasty tourists...

The Huffington Post



10 great places for family vacations in national parks
National parks not only preserve nature, they also nurture families, says Jonathan Dorn, editorial director of Backpacker magazine and Nationalparktrips.com, a planning site. "These are places where families can unplug from their normal chaos and reconnect"...

USA Today



At Bar '21,' Rubbing Elbows With History
In an age when so many of New York's best cocktail places are downtown, Bar "21" is the rare Midtown drinking establishment that feels energized...

New York Times







Cruise


Update: Alcohol to Blame for 18-Year-Old's Death on Carnival Cruise Ship
An 18-year-old died while at sea onboard Carnival Miracle's February 18 sailing. Multiple reports assert the cause of death was alcohol poisoning...

CruiseCritic.com



Viking cuts steel for first ocean-going cruise ship
In a ceremony this week, Viking Cruises cut the first steel for its first ocean cruise ship, Viking Star, which is scheduled to be completed in early 2015, and to begin sailing that April as part of the new Viking Ocean Cruises line...

USA Today







Transportation


FAA may clear personal gadgets for takeoff, landing
Federal officials could be loosening restrictions on those personal electronic devices airline passengers hate to put away at the beginning and end of their flights...

NBCNews.com



Airbus A350 flies over Paris Air Show
Airbus flew its new Airbus A350 over the Paris Air Show this morning, adding an exclamation point at the end of 50th addition of the event north of Paris at Le Bourget, France...

USA Today







Lodging


Hotel Review: Hotel Indigo, Hong Kong
The 138-room Hotel Indigo has opened in Hong Kong's lively Wan Chai district...

The Australian



The Big Six: Long Island lodges
Retro summer camps, high-society hangouts and chic beachside retreats...

The Independent





Other and Odd


Quran Park: Dubai Sets Sights On Islamic Attraction
Dubai has added a new item to its top ambitions such as building the world's largest Ferris wheel and bidding for an Angry Birds theme park – a site honoring the Quran...

The Huffington Post



Big banks, big pharma and now, big travel?
Elizabeth Becker's latest book was in part, born out of frustration. The seasoned journalist, who got her start as a war correspondent, began to notice a growing global economic force; a sector of the global economy changing whole societies and ecosystems but one relegated to the lifestyle section of most major papers...

CNN



VIP theme-park passes sell exclusivity, intimacy
I was about to board Harry Potter and the Forbidden Journey, one of the most popular rides at Universal's Islands of Adventure, where high-season wait times often top 75 minutes. But, not for me, not this time; I spent a mere 45 seconds in line...

USA Today







TRO Smith


The growing social media divide in travel and hospitality
A few weeks ago, Travel + Leisure announced the winners of the 2013 Social Media in Travel + Tourism (SMITTY) Awards. From amazing Instagram photos to engaging Twitter accounts and hilarious YouTube videos, it's becoming clear that travel companies are making a huge effort to show up in spades on social networks. As I looked through the list of winners and runners-up this year, a few things quickly became apparent to me...

TRO Smith





365 Guide Tip for the Day


The Psychology of Travel Consulting – Creativity
Where are new ideas born? Does it seem sometimes like all the good ideas are gone and that the energy has drained out of your travel practice? There are a few ways to pump new energies into your thinking and to generate some new ideas for marketing and growing your business...

Travel Research Online





Today in History


The Japanese Attack Fort Stevens, Oregon
On June 21, 1942 a federal fortification at the mouth of the Columbia river in Oregon became the only military installation in the continental US to be attacked by the Japanese during World War II...

Travel Research Online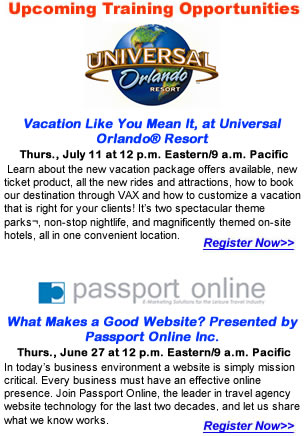 Use TRO every day to find travel guides, e-postcards, and other resources you can personalize and send to your clients.



TRO Travel Specials


Join Our Webinar Next Week: Latin Trails Galapagos Odyssey Fleet Refurbished...

An Event for Travel Professionals Only...

Gate 1 Travel Last Minute Deals – Earn 15% Commission on Select Tours & Dates!...

Costa Rica Beach Vacation Deals...

Discover Honduras, Best European Combos, Discover Asia & South Pacific by Solar Tours...

Independent Fam Trips to New York City!...

Israel – Exclusive packages including Air…starting from $2595...

Top commissions on all major carriers + Rewarding Rewards...

Greetings from Air Uganda! Earn 5% commission on U7 bookings...

Order the 2013-2014 Downunder Answers and Africa Answers Brochures Online...

TravelAge West Redefines Travel on the Web...

Blue Sky Tours: Offer something different! Chic – Vibrant – Contemporary...

$25 Bonus at Courtyard by Marriott Kauai...

A Spiritual Journey in the footsteps of St. Paul...

South African Airways Vacations – Travel Partner News – June 2013...

Scandinavian Summer Sale on SAS...

The best airfare with Wings...

Where no cabin has gone before...

New 2014 Crystal Getaways from just $1,520 per person...

6 simple tips to help you drive more business to your website...

When will you get the big referrals you deserve?...

TripPro members-Increase your profits-Book Delta to Latin America with SkyLink...

New Lower Fares for your Clients. Extended Higher Commissions for You....

Patagonia Adventure: Argentina & Chile for 12 days...

Christchurch – Gateway to the South. Discover it your way from $2299...

Flybe: Europes Largest Regional Airline...

Sell Theater Tickets and Earn Double Commissions...

Best of South America, Europe, Asia & South Pacific by Solar Tours...

Lie-flat seats, lower fares, higher commissions + double rewards for June...

Complimentary Hawaiian Activities and Value Add-Ons!...

Dont Forget: Limited Time Offer for Your Next Group!...

Increase Your Escorted Europe Bookings...

Commission on Vacation Rentals around the world...

Costa Rica summer vacation 5 days & 4 nights...

Where no cabin has gone before...

Disney Ship and Site Inspections Now Available at the Home Based Agent Forum...

Greece is waiting: send your clients a flyer...

Sceptre Tours Introduces Ireland by Rail and Private Chauffeur Package...

We Take Less, So You Get More...

Aruba | One Cool Island With Two Cool Promotions...

Pick your pack and walk with Ramblers on a Private Tour...

Discover Panama Summer Vacation Deals...

[WCBS] Image Is Everything. Color Sells!...